201: Building a Course Website
A FutureU™ Public Workshop
The Bargain Hunter's Guide to Building Your Course Website
There's a whole lot more to planning and creating a technology-enriched course than learning how to use course management software. After all, you didn't learn how to teach just by mastering the use of chalk on a blackboard or the light switches in a classroom!
The online classroom represents a whole new way of communicating and learning, with its own set of challenges and opportunities.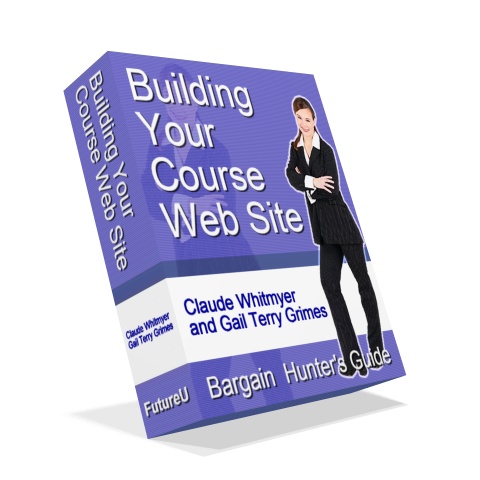 You don't need to spend thousands of dollars or more on course management software in order to put your existing courses online. The Web is full of free and low-cost tools that can help you do some or all of the job for almost nothing . . . if you know where to look and what to do.
Course management software vendors won't tell you about these alternatives for planning, creating, and delivering a technology-enriched course. But at FutureU we continuously seek out and assess new resources, and along the way we've found some real winners that we've reviewed in our Build Your Course Online blog. Now we've put together a course that introduces the best of the best low-cost options. Let us help you choose and master the ones that will work for you without busting your budget. By presenting the tools within the context of our own training materials and processes, we'll help you achieve high standards even as you save dollars.
Join other instructors as you "beat the system" together, drawing on FutureU's long experience and in-depth exploration of the Web to put your course online for the lowest possible cost. Apply what you learn here to an actual course, and roll it out right away.
For budget-minded and independent-thinking instructors who are new to e-learning and want to get their feet wet without spending big on software. Ideal for instructors who like to find their own solutions, for those who aren't satisfied with the course management software used at their institution, or for anyone affiliated with an institution that hasn't yet invested in a standard e-learning platform.
Duration: Two weeks.
Workload: 1 hour per day, 5 out of 7 days per week, for participation and study time. That's 10 hours of facilitated learning across 2 weeks for about 10 bucks an hour. Compare to self-paced "info" products that cost the same or double, even triple that amount. It's quite a bargain.
Teaching Format: Instructor led.
Classroom Format: Online and Asynchronous (Participants "attend class" from their own desktop or laptop computer, at home or at work, and at whatever time is most convenient to them.
Content and Learning Community: Includes the ebook and a 1-year subscription to FutureU's online community of practice where individuals using our content share ideas and have access to the latest versions of our products.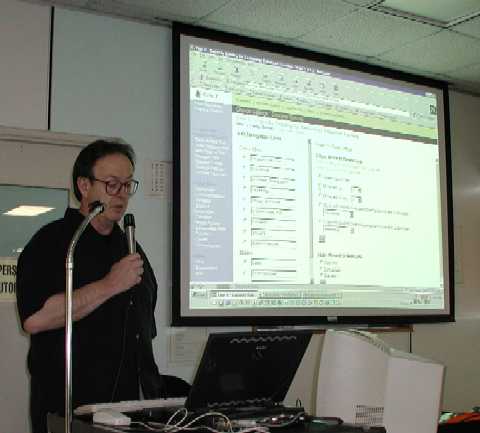 This e-course will be led by FutureU co-founder Claude Whitmyer, who has been learning and teaching online since the early 1980s before the World Wide Web even existed. Colleagues know Mr. Whitmyer as a champion at finding bargains for learning and communicating on the Web. His friendly communication style makes it easy for participants to master the sometimes challenging tools of Web-based instruction, and his skillful use of threading, harvesting, weaving, and other hallmarks of good online facilitation provides a model for every instructor. Mr. Whitmyer will be assisted by one or more FutureU associates who have been trained in FutureU's effective online facilitation methods.
The challenges and advantages of enriching existing courses with Internet tools, irrespective of their cost.
A Web site that helps you calculate the true cost of creating an online course.
The benefits and limitations of different types of media used for online group interaction.
Choices of a design structure for presenting your course materials on line.
Various free and low-cost Web-based services for:

Posting a Syllabus.
Carrying on a Discussion.
Sharing Files.
Making Quizzes.
Ordering Textbooks.

Interesting assessment tools.
Free Web page services that you can use to post course materials and information.
The difference between electronic classrooms and course intranets, and tips for determining which will best serve your needs.
Free online services for building an electronic classroom or course Intranet.
Valuable faculty development and curriculum resources:

Microsoft Resources for Higher Education .
Instructional Tools for Teaching on the Web.
Web Page and Multimedia Design Resources.

Book ideas to deepen your own and your students' understanding of the Internet.
Peer discussion on how to consolidate your thinking about using the Internet and the electronic classroom for teaching.
Ability to work at a detailed level
Eagerness to think and work independently
Ability to keep going in the face of sometimes challenging and frustrating experiences
Typing skill of 90-100% accuracy at a net 20 words per minute, minimum
Basic computer literacy, including how to use Windows and Windows Explorer or MacOS and Mac Finder, right click, double click, "file save as" and so forth
Ability to enter an http URL into the address window of a browser and have the page come up
Ability to create directories or folders and to use a text editor to make files and save files to a particular directory or folder
Familiarity with a major-brand word-processing software, such as Microsoft Word, Lotus WordPro or WordPerfect is strongly recommended.
Payment
Arrangements can be made to pay by PayPal or through the FutureU Store. We accept all major credit cards, cashiers checks, or postal money orders. Payment must be received at least 24 hours in advance of the start of an event.
Price
Total Cost: $100. A special edition of FutureU's Bargain Guide is included in the price ($27.00 value). That's about 10 hours of facilitated learning across 2 weeks and a free web-based textbook all for about 10 bucks an hour. You can't find a tutor or coach that cheap.