501: Student Orientation to the Online Classroom
A FutureU™ Course for Student Readiness
Make the Most of Learning Online
There's a whole lot more to planning and creating a technology-enriched course than learning how to use course management software. After all, you didn't learn how to teach just by mastering the use of chalk on a blackboard or the light switches in a classroom!
The online classroom represents a whole new way of communicating and learning, with its own set of challenges and opportunities.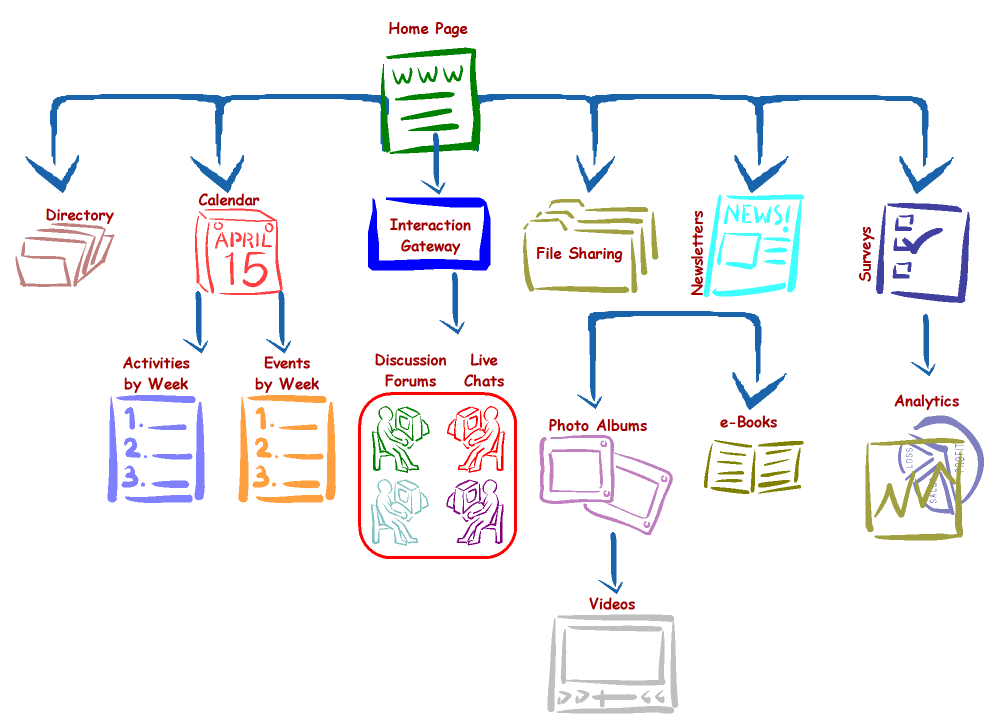 This course has been delivered for nearly 10 years to clients ranging from the American Hospital Association to the Dominican University of California. It is thoroughly tested and well-suited to any university, college, or high school student group.
Whether tenderfoot or veteran Web surfer, everyone has gaps in their understanding of what it takes to learn online. Even if you surf, email, and "instant message" every day, these experiences don't prepare you for the processes, skills, and attitudes necessary to excel in the online classroom.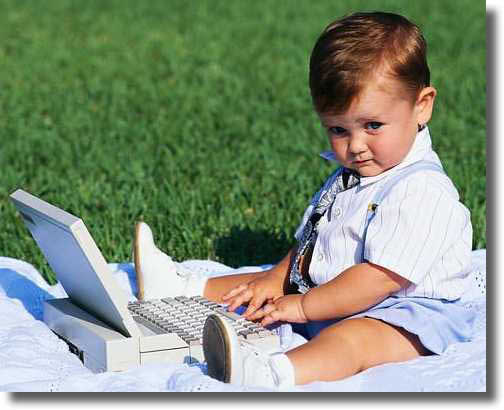 Using the FutureU Student Web Book as a text, a skilled facilitator introduces any group of 10 to 20 students to the fundamentals of learning online. In the process, participants come to know what it's like to work as a learning team—an excellent way to encourage group activities in later, content-based modules.
Includes two volumes containing eleven chapters and a Web-based student tool kit filled with Internet resources. See also the following tables of contents.
Volume 1: Getting Started With Online Learning
Chapter 1: Learning on the Internet
Understand the many advantages of learning online
Understand the many challenges as well
Practice emailing an instructor and entering an online classroom discussion
Consolidate what you learn here by discussing it with others
Chapter 2: The Electronic Classroom
Understand what course management software is and what it offers you as a student
Recognize the skills necessary to participate fully in the online components of any course
Practice using several different discussion forum software products
Practice using a simple template to build a glossary of terms related to a course
Practice using free journaling software
Practice starting your own personal journal to consolidate what you learn as you go
Consolidate what you learn about the electronic classroom by discussing it with others
Chapter 3: Internet Basics
Understand what the Internet really is and how it can benefit you as a student
Understand how the Internet came to exist and why
Understand the differences between the Internet and the World Wide Web
Understand what an ISP is and how to choose the right one for you
Visit two Web sites that review ISPs
Understand what a browser is
Download the latest version of your browser
Install a range of plugins used in online learning
Understand hyperlinks and hypertext, how they work and how they can help you as a student
Break down a URL into its component parts
If you need it, practice using a mouse, clicking on links, and surfing the Web
Look for patterns in your own use of the Internet
Explore three Web sites that serve as guides to the Internet
Learn about books that can deepen your understanding of the Internet
Consolidate what you learn about the Internet by discussing it with others
Chapter 4: Email
Consolidate what you know about email and how it can help you as a student
Explore various free email software programs
Deconstruct an email address
Recognize the skills necessary to use an email program efficiently
Visit several Web tutorials about email
Practice sending email
Consolidate what you learn about email by discussing it with others
Chapter 5: Netiquette (Internet Etiquette)
Understand the accepted standards for online behavior
Recognize common emoticons and abbreviations
Understand the copyright issues unique to the Internet
Know the rules for determining when a document enters the public domain
Explore Web sites on netiquette
Explore Web sites on emoticons
Explore Web sites on Internet ethics and privacy
Consolidate what you learn about netiquette by discussing it with others
Bonus Chapter: Learn Basic HTML Codes
Understand what HTML code is and how it can help you as a student
Deconstruct a basic HTML code
Learn and practice more than a dozen common HTML codes for use in assignment presentations
Consolidate what you learn about HTML by discussing it with others
Student Tool Kit
Reach all of the following resources from a single page:
Online dictionaries
Online thesauri
Online encyclopedias
Online grammar guides
Maps online
Government statistics
More than half of all U.S. government documents
Full texts of thousands of books, from Aesop's Fables to Shakespeare's plays
Audio recordings of thousands of politically significant events
Virtual Museums
Online reference resources
Glossary templates
Template for online group guidelines
Other educational sites (e.g., climate conditions, fun, utilities, live Web cams)
Volume 2: Mastering the Process of Online Learning
Chapter 1: Understanding Online Participation
Understand the generally accepted standards for frequency and style of participation.
Know the appropriate use of language for online interaction.
Understand the accepted standards for online document formatting.
Understand what a pixel is and how it is used.
Practice using evolving subject lines in messages.
Understand the concept of conversational "threading."
Understand the concept of language "chunking."
Consider a range of strategies for successful online interaction.
Review four checklists of tips for success at online interaction.
Chapter 2: Creating the Best Work Station for Online Study
Acknowledge the importance of safety and comfort to the online learning process.
Break down the components of an appropriate environment for online study.
Consider seven guidelines for preventing computer-related injuries.
Analyze the ergonomics of your own workstation.
Learn the unique time management skills required for efficient online study.
Recognize three types of environments used for online communication.
Consider four possible methods of reading on a computer screen and their different purposes.
Understand when, when not, and how to print out information.
Learn how to take notes on the computer while reading on screen.
Learn how to save pages to disk.
Learn how and when to download files.
Understand and practice bookmarking.
Learn how to adjust the size of your computer's viewing area.
Learn how to change the print size on your screen.
Practice adjusting the colors on your screen.
Chapter 3: Submitting Assignments by Email
Acknowledge five challenges and nine benefits to sharing computer files.
Learn the five pieces of information to include on the cover page of any assignment you submit by email.
Learn how to protect your computer from viruses.
Learn when to use rich text format.
Understand accepted standards for delivering extra-large files.
Understand the value of conversion software and where to get it.
Learn eight steps for attaching a file to an email message.
Practice sending a typical assignment file.
Read an article on foolproof file enclosures.
Chapter 4: Using the Internet for Assignment Research
Acknowledge the value of careful planning for Internet research.
Learn a 14-step strategy for successful Internet research.
Practice each of the 14 steps.
Visit an online dictionary, an online thesaurus, and up to three online library catalogs.
Understand and practice "uncovering."
Learn what a "gopher" is, and practice using the first one ever developed.
Understand the difference between two broad types of search engines.
Compare up to nine popular search engines and learn how to choose the best one for various types of research questions.
Consider various search strategies.
Visit up to seven database sites.
Understand boolean operators and how to use them in your Internet research.
Understand how to evaluate resources found on the Internet.
Hone your critical thinking skills.
Try out a software program for record keeping.
Understand the accepted method for citing quotations from Internet sources.
Visit a site full of Web searching tips.
Take an electronic tutorial on Web searching.
Read an article about copyright and fair use in the digital age.
Visit up to five online citation guides and learn about the most popular print-based style guides.
Acknowledge the legal and moral obligations associated with copyright.
Understand when you can and cannot legally copy someone else's work.
Review 10 important rules for determining when a document is in the public domain.
Chapter 5: Using the Internet for Group Learning
Acknowledge the individual participant's responsibility to an online group.
Recognize 10 activities that any group can do together and the eight benefits of doing them online.
Understand the benefits and limitations of seven different types of media used for online group interaction.
Understand the 11 steps to starting an online group.
Look at a template of guidelines for group procedures, behavior, and shared values.
Understand alignment and recognize seven possible levels of individual alignment with group goals.
Understand the difference between discussion and dialogue.
Explore up to four Web sites that introduce group process tools.
Learn two valuable tips for successful chatting.
Understand both qualitative and quantitative harvesting.
Understand weaving.
Recognize the resources necessary for collaborative learning.
Understand the differences between traditional learning and facilitating collaborative learning.
Understand the eight steps that occur in the formation of any collaborative group.
Learn 15 tips for successfully facilitating an online study group.
Practice planning an online group activity.
 Demonstrate your institution's high expectations for online learning.
Give every student an equal chance to excel in any course that has an online component.
Provide easy access to a wide range of online resources (Student Internet Tool Kit).
Boost student confidence.
Allay parent concerns.
Reduce faculty and IT staff workload.
Achieve maximum buy-in the shortest possible time.
The FutureU Student Web Book consists of a series of Web pages accessed by password on the Internet. All you need is an Internet email address and access to the World Wide Web. When you buy this Web Book, you will receive a personal password that gives you access to the Web Book from your computer as well as access to at least one subject-based discussion forum and one peer-based technical support forum.
The Student Web Book has been tested for use as a course text in Blackboard, eCollege, etudes, FirstClass, IntraLearn, Prometheus, Web Course in a Box , VirtualU, WebCT, and as a stand-alone Web site that can be used with any electronic classroom. Conversion to your school's standard electronic classroom environment is available for an additional fee.