Gail Terry Grimes (CEO and chief creative officer) had been an independent communications consultant to organizations for 25 years before launching FutureU™ with Claude Whitmyer in 1997.
Today, Ms. Grimes draws on all these experiences to oversee FutureU's team of specialists and to assist clients in the planning, implementation, and analysis of communication and learning activities that will help them reach their ideal future.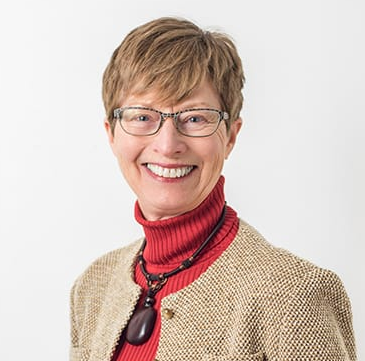 During the mid-1990s, she was the communications consultant to a $52 million Internet startup with a not-for-profit mission related to the humanistic use of technology for improved communications. This project laid the groundwork for her work with FutureU™.
Since founding FutureU™ with Claude Whitmyer in 1997, she has focused increasingly on Web-based content creation, delivery and program strategy. She is the author, designer and frequent presenter of numerous FutureU™ webinars and face-to-face workshops, including:
"How to Wow 'Em with PowerPoint"
"The Art (Not the Science) of Teaching with Technology"
"Course Mapping and Storyboarding"
"The Best of the Web's (Ever-Evolving) Resources for Teaching"
"Accommodating Learning Styles in the Virtual Classroom"
With Mr. Whitmyer, she has used this and other content to train numerous university faculties—from California to Puerto Rico and from Canada to Saudi Arabia.
While Mr. Whitmyer is an internationally known expert on the new technologies for education and communications, Ms. Grimes specializes in the art of communicating, teaching and learning with the new tools. Her presence as a "non-techie" in the classroom, and her ability to simplify and explain technical skills and concepts, are especially reassuring and helpful to beginners and instructors in the arts, humanities and social sciences. At the same time, her attention to "soft skills" raises the bar for instructional design and communication in the new media among more technologically inclined faculty and staff members.
Chief Executive Officer (1997–present), FutureU™, San Francisco

Research, consultation, training, and publishing in virtual communication and e-learning
Workplace Research and Data Analysis
National Aeronautics and Space Administration Astrobiology Institute

Needs Assessment.

Co-developed a 32-question survey instrument, analyzed results, and prepared follow-up recommendations in collaboration with client contact.
Organized qualitative responses into a meaningful report.
Co-presented findings.
California Pacific Medical Center

Communications Evaluation. Part 1.

Full responsibility for design, delivery, and analysis of a written survey of 5,000 physicians, employees, and board to assess and plan communications strategy at multi-campus health care, research, and post-graduate education institution.
Wrote a 200-page report with recommendations and a summary.

California Pacific Medical Center

Communications Evaluation. Part 2.

Full responsibility for the design, delivery, and analysis of a telephone survey of 35 board members and senior executives to assess and plan public relations and communications strategy.

Luther Burbank Center for the Arts. Feasibility study delivery and analysis for fund development program.
Walt Disney Independence Lake Development Project.

Wrote the first independent analysis of the three-volume environmental impact report on Disney's proposed development of this pristine High Sierra property.
Published five feature articles that were serialized in newspapers throughout Northern California, reportedly contributing to the cancellation of this massive project.
Web Book Authoring and Programming
Bargain Hunters' Guide to Building Your Course Web Site.

Wrote this 50-page e-book in collaboration with FutureU™ Co-founder Claude Whitmyer.

Decision Makers' Planning Tool for Evaluating Course Management Software.

Wrote and programmed (in HTML) this 125-page online workbook plus multiple checklists, forms, and spreadsheets for project planning.

Planning and Managing Online Library Access.

Wrote and programmed (in HTML) this 34-module web book, with hundreds of hyperlinks, based on information taken from a report co-written with Christopher Mays, MLIS, of the San Francisco State University Library.

Implementing OASIS (Medicare Outcome and Assessment Information Set).

Wrote and programmed (in HTML) this 21-lesson online tutorial for home care professionals in collaboration with Corridor Media.
Conversion of Academic Courses for Online Delivery.

Design and delivery of a three-day workshop to 25 faculty from Universidad Interamericana.
Covered the skills needed to convert educational courses for online delivery using the WebCT course management software.

Overcoming Challenges in the Development of a Technology-Mediated Curriculum.

Co-design and delivery of three one-day workshops to 75 community college faculty members and IT professionals from the California Virtual Campus, a consortium of 107 community colleges.

Case Development for the Healthcare Community Benefit Program.

Design and delivery of a 2-hour presentation to development professionals at a meeting of the Association for Healthcare Philanthropy on "Community Benefit, Why it's a Must and Where to Start."

English Grammar, Syntax, and Style.

Design and delivery of a one-day workshop for the staff of The Kyle Foundation, a national charitable organization.

Non-Profit Marketing and Community Relations.

Design and delivery of a half-day workshop for community leaders.
Creative Services for Non-Profit Communication and Development
Starting in the mid-1970s, Ms. Grimes provided creative writing and communications consulting services that have helped shape the future of major non-profit institutions throughout the United States and helped raise close to $1 billion for health care, medical research, education, and other causes.
She has worked closely with voluntary board members and staff executives at dozens of non-profit organizations at the regional and national levels.
Interviewing.

In her career, she has interviewed more than 10,000 individual scientists, health professionals, academics, and executives.

Writing.

Hundreds of writing projects, including:

Case statements
Direct mail letters
Brochures
Executive letters
Press releases
Feature articles

Dozens more:

Annual reports
Community benefit documents
Grant proposals
Newsletters

Also:

Corporate histories
Implementation plans
Mission statements
Scripts
Speeches

Communications Consultation.

Analysis, strategic planning, and writing tutorials for teams and individuals.

Art Direction.

For print, web, and audio/visual media.

Board Development.

Interviews, training manuals, retreat reports.

Special Events.

Health fairs, facility tours, stage productions, publicity campaigns with multiple events, and full press coverage
Selected Clients (Non-Profit Sector)
Arts.

City Center Ballet of San Jose
Marin Theater Company.

Education.

California State University/Hayward
Cathedral School for Boys/San Francisco
National Judicial College
University of California/ Davis
Saint Mary's College of California
Santa Clara University.

Elder Care.

Covenant Village/Turlock
Jewish Home for the Aged/San Francisco
Salem Lutheran Home/Oakland
UCSF/Mount Zion Center on Aging.

Health Care.

California Pacific Medical Center/San Francisco
The Health Forum Division of the American Hospital Association
Saint Joseph Health System
ScrippsHealth
Swedish Medical Center/Seattle
UC Davis Health System
University of California/San Francisco.

Historic Preservation.

Andrew Jackson's Hermitage/Nashville
Roosevelt Presidential Yacht Potomac
Vacaville Museum.

Human Services.

Catholic Youth Organization/San Francisco
Clorox Foundation
Episcopal Diocese of California
Innvision/San Jose
The Kyle Foundation
Marin Education Fund
Motion Picture and Television Fund
St. Vincent's School for Boys/San Rafael.

Medical Research.

American Gastroenterological Association
National Brain Tumor Foundation
Scripps Institutes of Medicine and Science.

Nature and Conservation.

Sierra Club
San Francisco SPCA
San Francisco Zoo.
University of New Hampshire, BA, 1969. Also, graduate work in Education.
University of Nevada, Reno. Graduate work in Administration and Interpretation of Assessments, News Reporting.
Continuing Education.
Future Search™ (large group intervention process)
Group Facilitation
Organizational Systems and Development
Change Management
Print Communications
Web Design and Development.